SPS Supports energy Efficiency and Clean Energy Initiative in NC
SPS Supports energy Efficiency and Clean Energy Initiative in NC by Participating in the Recent Business Community and Legislative Reception Hosted by the NC Sustainable Energy Association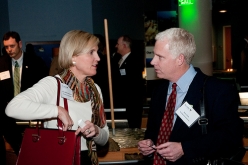 NC Representative Ruth Samuelson talks with Don Clark, President of Southpoint Solutions at the Feb.12 Legislative Reception
(PRWEB) February 27, 2013
Tuesday was a great day for clean energy in the State's capital. Representatives from 15 clean energy companies were present to participate in the North Carolina Utilities Commission hearing on avoided cost and visit with legislators. In the afternoon, the NC Sustainable Energy Association hosted a regulatory and legislative update for clean energy businesses. With over 160 industry representatives in attendance, we can expect continued success from the clean energy industry in 2013 and beyond. That evening, the NC Clean Energy Business Alliance and the NC Sustainable Energy Association hosted a legislative reception at the Nature Research Center across the street from the Legislative Building. More than 60 legislators attended, each one learning about the growth of the clean energy industry and the jobs and investments that are flowing into North Carolina as a result. Remarks from Lt. Governor Dan Forest, House Conference Leader Ruth Samuelson, and House Commerce Committee Chairman Representative Tom Murry confirmed that our state's elected officials are serious about creating an environment where businesses can invest, innovate, and grow.
Founded in 1978, the North Carolina Sustainable Energy Association is a 501(c)3 nonprofit membership organization of individuals, businesses, government and non-profits interested in North Carolina's sustainable energy future. Located in Raleigh, but active statewide, the North Carolina Sustainable Energy Association is the leading nonprofit in North Carolina devoted to leading public policy change and driving market development in ways that will create clean energy jobs.
Southpoint Solutions, LLC. is an energy services company whose mission is to help commercial and industrial companies reduce energy costs and achieve environmental objectives by developing and implementing turnkey energy efficiency projects consisting primarily of high-performance, energy-efficient lighting platforms, intelligent wireless control systems and direct renewable solar technology. For more information, visithttp://www.SouthpointSolutions.com.