Orion 'Partner of the Year'
Southpoint Solutions named Orion Energy Systems' 'Partner of the Year'
Charlotte-based Southpoint Solutions was recently named Orion Energy Systems' "Integration Partner of the Year" after Southpoint Solutions produced the highest sales volume among Orion's 50-plus national partners.
Southpoint Solutions provides profit-maximizing energy management solutions to its customers through the implementation of Orion Energy Systems' commercial and industrial lighting technologies. These technologies include fluorescent and LED light fixtures and Orion's Basic and Smart Motion occupancy controls and strategies.
"Congratulations to Southpoint Solutions for an exceptional year," said Orion Energy Systems CEO John Scribante. "We are extremely proud of our nationwide network of partners, and we embrace the fact that they are integral to our big-picture game plan and overall success. Southpoint Solutions and Orion Energy Systems form an outstanding team, as our many customers in the Southeast region can attest."
Southpoint Solutions received its award at the 2012 Orion Energy Systems Sales Conference in Chicago. Tim Eylander, Orion's Business Development Manager, presented the award to Southpoint Solutions' President and Founder Jeff Hickman and Vice President Don Clark.
"We are honored to be recognized by Orion with this award, and we know that the success of both our companies is deeply dependent upon a solid business partnership," Hickman said. "We are extremely pleased to be in this position with a manufacturer we view as the leader in the industry, and see many more growth opportunities for us in the future."
Founded in 2003, Southpoint Solutions has conducted business throughout the Southeast for more than nine years, helping more than 875 companies substantially reduce their lighting electricity spend. Southpoint Solutions combines its energy management expertise and regional market knowledge with Orion's technology and financial options to develop and implement turnkey projects throughout the Southeast region.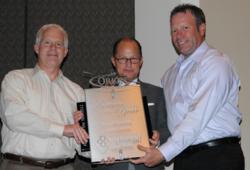 Tim Eylander, Orion's Business Development Manager, presents award to Southpoint Solutions' President and Founder Jeff Hickman and Vice President Don Clark